Lobster Gram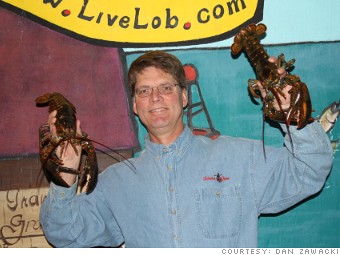 Based in

: Chicago

Big win

: Sold 600 packages of lobster tails and other seafood products in six minutes in debut

Website

: www.livelob.com
Dan Zawacki's small business story begins 26 years ago when he was dreaming up new holiday gift ideas for his 80 business clients.
"I was working at Honeywell, and I wanted to impress my customers," he said. "I loved lobsters. I thought: 'Why not?'"
So Zawacki bought 80 live lobsters, put each in a bag with a stick of butter and his business card, and delivered every package. His clients loved them. From that, Zawacki was inspired to start Lobster Gram, a live lobster home-delivery business, as a side gig.
Soon after, his boss at Honeywell heard Zawacki advertising the lobster business on a Chicago radio station when he should have been at work. Zawacki was fired and Lobster Gram became his full-time job.
And a chance meeting in 1996 with QVC buyers in New York catapulted Lobster Gram into the national spotlight. QVC put Zawacki and his lobsters on air that same year and was a hit.
"I was so nervous, but I got the TV bug after that," he said. Today, Lobster Gram is among QVC's top 500 vendors. "We're on air 60 to 70 times a year. Sometimes we ship up to 3,000 lobsters a day," he said.
- LAST UPDATED DECEMBER 05 2012 11:20 AM ET